Varicose Veins Miracle Cream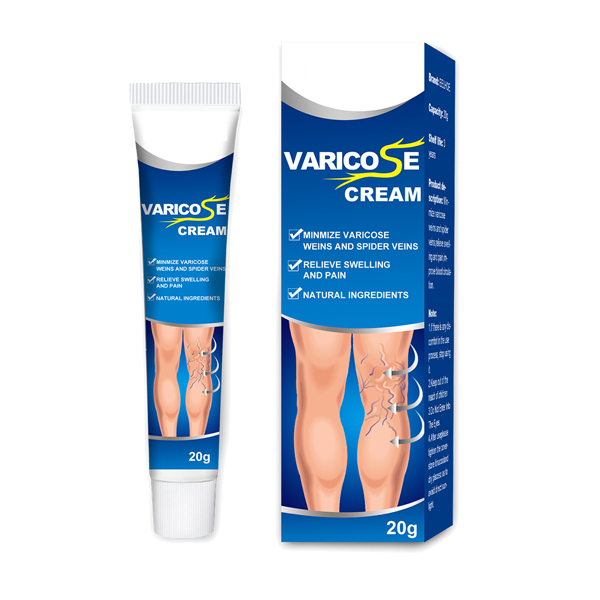 Varicose Veins Miracle Cream
Before introducing our product here are the people who are fascinated by our product
"This Varicose Veins Miracle Cream is a great way to get started on a vein appearance regime. After having 3 children and been a caregiver with standing on cement floors for over 15 years. This resulted in my legs seriously noticeable. After testing this product I have seen some results but not an overnight or 1 week solution. The smaller veins have lighten but not disappeared and the larger ones are fading after about 2 weeks. I will Be subscribing to order more to make sure I stay committed. I just wish it would be quicker getting rid of them but then again it took years to cause these. This cream scent will not be as strong or irritating as some have stated about this type of cream!"
Liz Richards --- Sacramento, California
"I'm very satisfied with my Varicose Veins Miracle Cream. There must be a significant difference in the size and darkness of my blood vessels. This ointment is really effective. It can reduce the inflammation of the vein, so as to relieve the pain and discomfort on my leg. It's amazing. I will continue to use this one and get the final result. After using it for a longer time, I am eager to see the result. I recommend it to you."
Edward Carpenter --- Hartford, Connecticut
How does our veins work?

Veins are blood vessels in humans that carry blood towards the heart. What is varicose veins?
Veins bring blood to the right side of your heart. Pulmonary arteries carry the blood to your lungs, where it receives oxygen. Pulmonary veins move the blood oxygen-rich blood to the left side of your heart. 
Varicose veins are caused by increased blood pressure in the veins. Varicose veins happen in the veins near the surface of the skin (superficial). The blood moves towards the heart by one-way valves in the veins. When the valves become weakened or damaged, blood can collect in the veins.
Consist of 2 Key Ingredients for Varicose Veins Miracle Cream
Cayenne Pepper
Ginkgo Biloba
Cayenne pepper is considered a miracle treatment for varicose veins. Being a very rich source of vitamin C and bioflavonoids, it increases blood circulation and eases the pain of congested, swollen veins.
Due to the cayenne pepper's highly medicinal properties it makes the perfect detoxifier, helping to flush toxins from the body, while stimulating circulation and neutralizing acidity in the body.
Laboratory studies have shown that ginkgo improves blood circulation by opening up blood vessels and making blood less sticky. It is also an antioxidant. For those reasons, ginkgo may improve vein and eye health.
This is why Varicose Veins Miracle Cream is special
Eliminate varicose and promote skin improvement.
Prevent recurrence and gradually repair veins.
Relieve from itching and pain.
Eliminate symptom like limb fatigue, pain, swelling and lower limb swelling.
Restore elasticity to veins and capillaries.
Accelerate blood circulation and repair damaged cells.
Improve skin tone and moisturize all at the same time.
Suitable for people suffering from vasculitis and varicose veins disease.
Made with the highest quality pure essential oils extracted from traditional medicine.
Ashley's Varicose Veins Miracle Cream report
After having three kids Ashley noticed that she was getting varicose vein's that can be sometimes painful. Its very unhealthy and can be obstacle for her everyday routine. This is why she tried this Varicose Veins Miracle Cream to see if this will help her, and the result is.
Here is the result...
Day 1
"For my day 1 of using this cream. The smell is nice and very comfortable to skin. I'm also very sensitive to smells so don't like things that are too smelly. This product doesn't have a strong sent and also isn't oily or sticky Not yet things happen or change but I feel the cooling sensation that I think it is working on me. Let just see if this Varicose Veins Miracle Cream is really helping me."
Day 7
"I've been using this every night before I go to bed and so far it's been working wonders on helping me sleep and slowly fading away the varicose veins. I've noticed less pain during the day and night. It also is helped with the circulation in my legs as well because I have sciatic nerve issues."
Day 14
"I'm amazed how well this cream works to eliminate the ugly varicose veins due to my pregnancy. The cream went to work vanishing the mottled skin color (after 2 weeks of daily use) and I can wear sandals again. This a great product that everybody with spider vein problem must use. It is very effective. I highly recommend this to all of you"
Ashley Sigmund --- Denver City, Colorado
How to Use:

Please make sure the affected area is clean and dry.
Take a proper amount and spread the cream to the legs and feet evenly.
Gently massage legs and feet until it fully absorb. Use 2-4 times per day.
Ingredients: Cayenne pepper and Ginkgo biloba
Warning:

Not applicable for pregnant women.
If you have a skin allergy or wound should use it with caution.
External use only.
Product Detail: 1 x Varicose Veins Miracle Cream (20g)