PurAst Japanese Fermented Rice Essense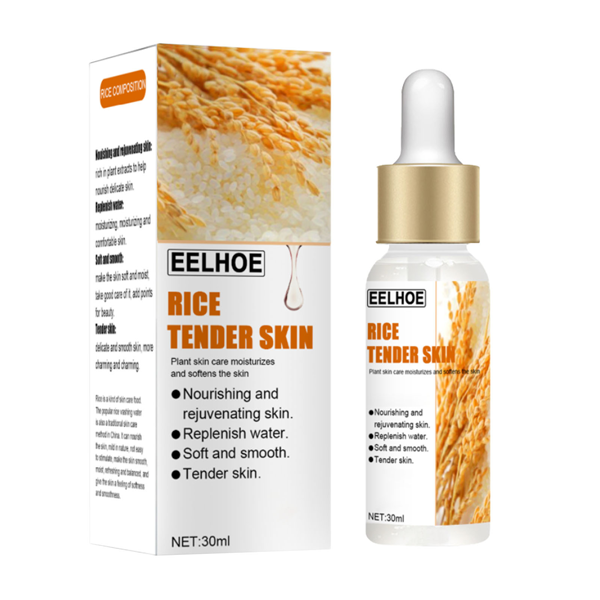 PurAst Japanese Fermented Rice Essense
Before we introduce our product, let's look at our happy customers
"This is my first purchase of an anti-wrinkle serum. I have been using it for the past few days and am very happy with it. A very pleasant but subtle scent. It goes on smoothly without feeling sticky or sitting on top of the skin. It is absorbed quickly. Moisturizers work well with serums. Skin is radiant after use. I will definitely buy again."
Branda Maige --- Auburn, Alabama
"I bought this product about a month ago and I use it at least once a day, sometimes twice. I started noticing a difference in my skin within a week! For the record, I have terrible skin. It's red, blotchy, uneven, and on top of that I would get terrible breakouts. I chose to post some before and after pictures because even though my skin is still not perfect this product has helped A LOT! It helped reduce the redness of my breakouts within a few days of using it and I'm convinced that it has also helped prevent more breakouts. This past month I've only had about 2 bad pimples (which is great for me since I used to get a new pimple every couple of days) but other than that my face has been doing great!"
Jaime Handley --- Ajo, Arizona
Consist of 2 Key Ingredients for PurAst Japanese Fermented Rice Essense
Fermented Rice (Oryza sativa)
Glycerin
Oryza sativa is an excellent emollient. It keeps skin moisturizes and lubricated. It also protects the skin from dehydrating and drying by reducing the loss of moisture from the skin.
Glycerin is great for the skin because it acts as a humectant, which is a substance that allows the skin to retain moisture. It can increase skin hydration, relieve dryness, and refresh the skin's surface. It's also an emollient, which means it can soften skin.
PurAst Japanese Fermented Rice Essense Special Function
Beneficial effects on the skin, such as cleaning dead skin cells, so that the skin has a whitening effect.
Provide long-lasting effect and correct skin tone.
Improve wrinkles and skin blemishes, create clean and healthy skin, and tighten skin.
Effectively improve fine lines, wrinkles, skin tone, help repair skin cells, promote collagen production, and increase skin elasticity
Safe and effective, the skin brightening essence is suitable for all skin types.
Nourishing essence, moisturizing, anti-aging, removing dark circles.
Lara's 3 days of using PurAst Japanese Fermented Rice Essense report
Lara tried a lot of beauty products and different brand. For several years, She's been looking for a essence that's affordable, comes in recyclable packaging, and works. This PurAst Japanese Fermented Rice Essense is what she found online. She bought and try, and the result is...
Here is the result...
Day 1
"I ordered these because the prices and reviews were great, and they arrived soon. I just started using it, but my skin was very soft and wrinkles disappeared a lot, so I look forward to seeing the results longer."
Day 2
"So far, I'm a fan! I've noticed more even skin and a reduction in the appearance of wrinkles. Even my under-eye is looking better... and it's only been 2nd day!"
Day 3
"Over the years, I've tried a lot of beauty products and modeled skin for multiple companies. But this PurAst Japanese Fermented Rice Essense is awesome. It does do a lot to your skin, it looks great. I will be a lifelong customer of this product. After 3 days, the reduction in wrinkles and the increase in radiance was exactly what I was looking for."
Lara Caruthers --- Carmel, California
How to Use
Wash your face as you normally do.
Apply a proper amount of it on your face with palm or cotton pad.
Don't push pressure on your skin, massage gently.
Ingredients: Oryza sativa, trehalose, sodium hyaluronate and glycerin.
Product Details: 30ml PurAst Japanese Fermented Rice Essense