Pet Traction Rope, Pet Clothes, Cat Clothes Cute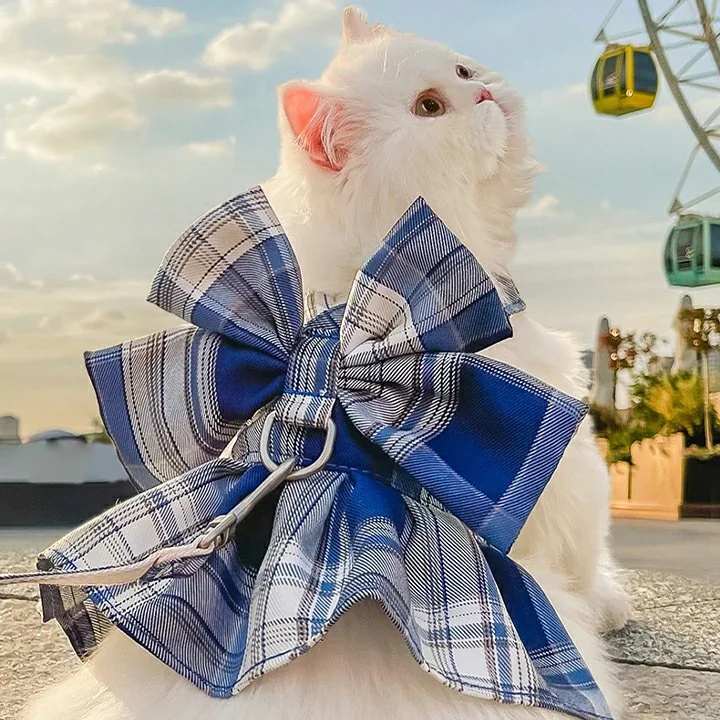 Pet Traction Rope, Pet Clothes, Cat Clothes Cute
Features:
Equipped with traction rope:
with the design style of traction rope, you can release your hands outdoors, and your cat will not escape The traction rope is tied on the back of the cat dress, which can be buckled or removed at any time, which is very safe and convenient.
Safe and comfortable fabric: the dress is made of soft fabric according to the standard of human clothing It takes good care of your cat The dress feels good The skirt is thin and light in weight The cat is comfortable and durable, suitable for a lovely decoration.
Elegant and nice design: Cute butterflies and elegant design, which can make the skirt more princess-like, and make the cat in the skirt look like an elf walking on the earth.
Nice pet gift: beautiful cat dress is very suitable for weddings, holidays, Christmas, new year, birthday parties and other occasions Your pet will be the focus if you put on some really beautiful dresses You can also give them to the people who have small pets at home They will be very happy to have these beautiful pet clothes to dress their pets.
Cleaning is very convenient: cat dress with reactive printing and dyeing, can be washed by hand or machine in cold water, after cleaning, just need to level and dry, the dress will not fade into the water, please rest assured to clean.
Product Measurements:
| | | |
| --- | --- | --- |
| Size | chest | suitable weight |
| S | 32-34 | 1.5-2.5kg |
| M | 38-40 | 2.5-4kg |
| L | 46-48 | 4-5kg |
| XL | 50-50 | 5-6kg |
• 1 Piece Cat Dresses Princess Skirt Lace Skirt Strap with Traction Rope Escape- Proof for Small and Medium-Sized cat Cat Pet Skirt Holiday Wedding Christmas New Year Spring Summer (L)