Flopping Fish Interactive USB Charging Cat Toy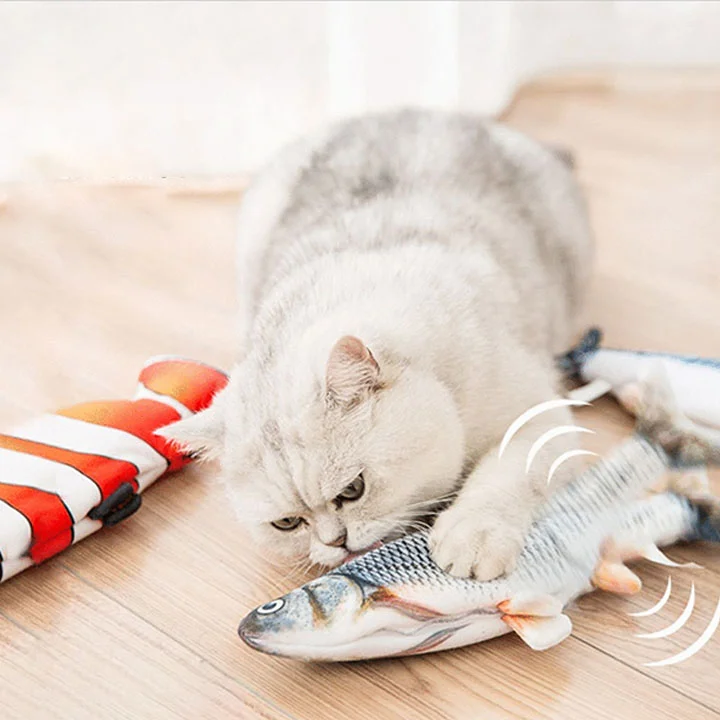 Flopping Fish Interactive USB Charging Cat Toy

✔️Smart & Interactive Floppy Cat Fish Toy
✔️Realistic Fish Simulation
✔️Eliminate Cat Separation Anxiety
✔️Relieves Cat Stress Level
✔️Stimulate more Playtime
✔️Electric & USB Charger Included
✔️Catnip Included
✔️Best Present for your Cats🙀.....and Dogs!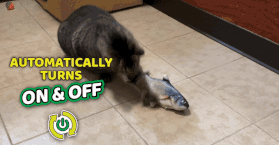 GET THE ENERGY OUT!
Just like a fish out of water, The Flippity Floppy fish has an action instinct that instantly attracts your cat.
The Floppy Fish Cat toy is an amazing way for your cats to release energy! Make playtime more enjoyable by simulating their fish hunting instincts! It's made of strong durable materials that are safe and non-toxic and it's USB rechargeable. No matter your cat's age, they'll be as playful as a kitten with Flippity Floppy Fish™.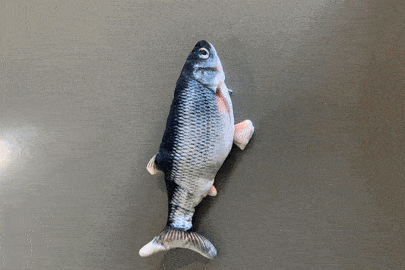 REALISTIC FISH SIMULATION THAT KEEPS YOUR CAT CURIOUS
The Floppy Fish Cat Toy not only looks like a real fish, but it also acts, flips, and flops like a real fish as well. It will flop when touched and stay still when left alone. Very interactive and it revives your cat's hunting instincts with the unexpected flips and flops.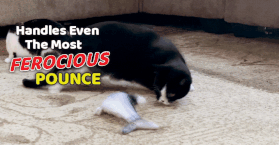 THE FUN NEVER ENDS, RECHARGE TO KEEP ACTIVE
Forever rechargeable with refillable catnip, and made with high-quality cotton. The Floppy Fish Cat toy is every Cat's favorite toy. Interactive and fun, give your four-legged friends the toy of their dreams. Every Cat loves the Floppy fish cat toy.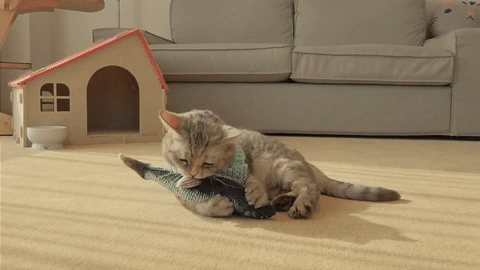 INCREMENTAL FLOPPING SPEED
The Floppy Fish Cat Toy will adjust its flopping slower or faster according to the motion around it. If it detects that it's being played with, it'll flop faster. If it detects no motion, it'll slow down and eventually stop. This high interactiveness is what makes every Cat love it so much.
ELIMINATE BOREDOM & SEPARATION ANXIETY WITH THE FLOPPY FISH CAT TOY
You Cat will never get bored of the Floppy Fish Cat Toy and it's an awesome toy to keep Cat at home (Indoor) especially alone, busy and curious while you are out of the house. Because it invokes curiosity in your Cat, it helps reduce Separation Anxiety and Stress of loneliness in your Cat.
WILL MY CAT BE TERRIFIED OF IT?
We've noticed that some Cats are unusually terrified of the Floppy Fish due to its casual flips and flops. If this is your Cat, it's simple to solve.
Every cat is different, so each is frightened by different things. Every cat has its own way of responding to unusual activities, too. So introducing the Floppy Fish to your cat while it's off is proven to be the best approach, especially for Frightened Cats. Get them used to playing with it and attracted to the Catnip inside of it and After a while of activity with the floppy Fish, you can then start introducing it while on to them until their curiosity transitions into FUN!
HOW IT WORKS
a. Easily Chargeable with USB
No need for batteries, a simple charge can last a few days of playtime. Included in packaging. Recharge every time the battery gets low to keep your cat busy and playful.
b. Refillable Catnip Pouch:
The Floppy Fishy not only provides a physical stimulus, but every fish may also include a refillable pouch of catnip.
c. High-Quality Materials:
Made with soft cotton, washable, and bite-resistant fibers. When the Floppy fish cat toy gets dirty, you can remove the electronic motor inside before washing and put back in once dry.