Custom Pet photo 3D led lamp, Pet lover gift, Pet birthday gift, Personalized dog cat gift, Pet gifts for owners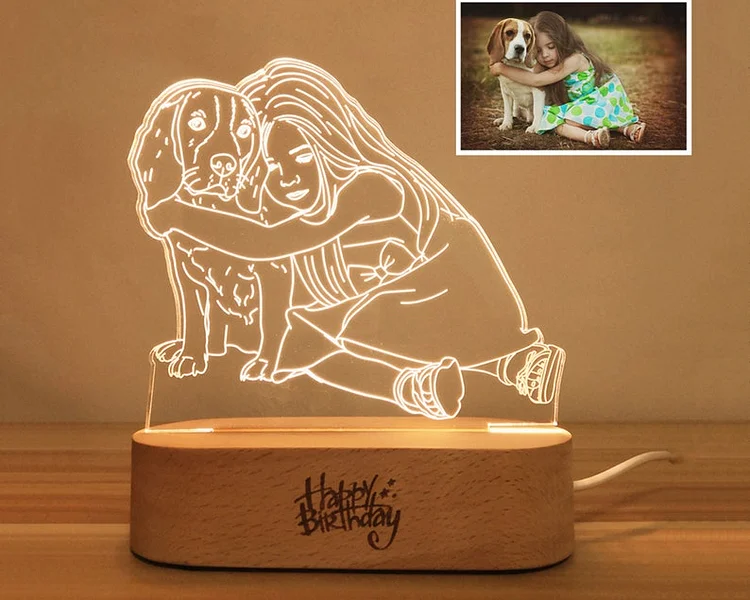 Custom Pet photo 3D led lamp, Pet lover gift, Pet birthday gift, Personalized dog cat gift, Pet gifts for owners
Know Before You Shop:
We need

1–2 weeks

to finish your order, so we can make sure to provide good quality artwork for you

(Not including delivery time).

please make sure that you accept it before the purchase.
THE MOST PERSONALIZED GIFT YOU COULD EVER MAKE
Let's create light stands from your favorite memories with your pet! Choose from one of your pictures, and we'll turn it into a unique night lamp shining with memories!
You can customize any words or photos to show your love or best wishes directly. This will be a great gift for your best partner (your pet) to commemorate the precious moments of you and your pet or to commemorate a pet that has passed away.
Bring warm lighting and even warmer vibes to your home. Choose a special memory you want to relive forever, and we'll immortalize it into a unique gift everyone will love!
FEATURES:
Relive your best moments- Come back to your favorite memories each time you turn on the light and find a reason to smile each evening!

Customize your lighting- Create a light stand from a picture you want to see every time when you wake up and fall asleep!

Like no other- Surprise the pet lovers around you with their favorite memory sculpted into a lamp! You can't get more creative than that!

This is the ultimate choice- Capture your beautiful moment on a display that will bring you back to your cherished memories forever!
How to order:
1. Please select from the drop-down options
2. Upload your image and words that you'd like to engrave on the base (such as "I Love You")
3. Place your order
Suggest words:
God Gave Me An Angel When He Gave Me You ;
Forever in my heart ;
Always on my mind ;
My key to happiness ;
I love you to the moon and back ;
One life; One love; One family.