Wall Mount Rotating Molar Natural Catnip Ball Toy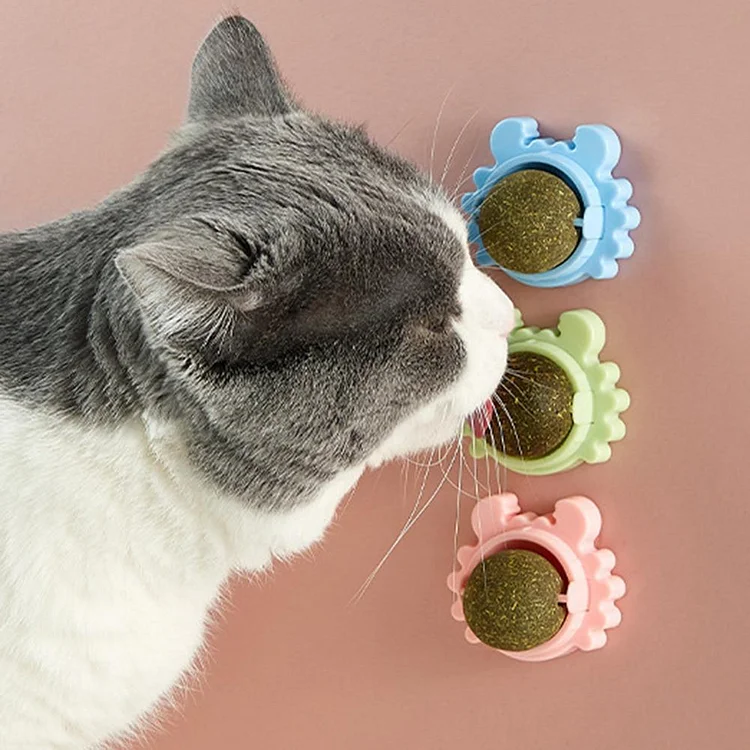 Wall Mount Rotating Molar Natural Catnip Ball Toy
NATURAL CATNIP PLANTS:
Cat toys are made of 100% natural catnip plants, without any additives or preservatives, non-toxic and safe for indoor cats. Two of the cats' favorite candies are made of nutrient-rich fish glue.
IMPROVE HEALTH:
Chew the plant fiber in catnip, deep into teeth, and clean teeth to help remove residues, improve oral hygiene and keep breath fresh. Improve cat's appetite and enhance its immunity.
EASY TO INSTALL:
The strong double-sided tape on the back of the catnip ball's spherical base makes the catnip ball easy to stick to smooth surfaces such as glass walls, doors, windows, and tiles. Pressing the catnip ball's spherical base can help fix it more firmly. Tip: Not suitable for rough walls.
ROTATING CATNIP BALL:
The delicious kitten snacks will rotate with the cat's tongue, and the cat will can't help playing and licking. The dust cover when the catnip ball is not in use can prevent dust from falling and keep the catnip ball clean so that the cat can play next time.
CONVENIENCE:
You can place the catnip ball anywhere, and then catnip can attract cats to lick, but you don't need to do anything.
Specification:
Item: Crab Catnip Rotating Ball Molar Teeth Interactive Cat Licking Toy
Material: Plastic + ABS
Weight: 15g
Color: Blue/Pink/Green
Size: 4*3*4cm/1.57*1.18*1.57in