Pet Gifts - Cat Pendant丨Custom Pet Portrait.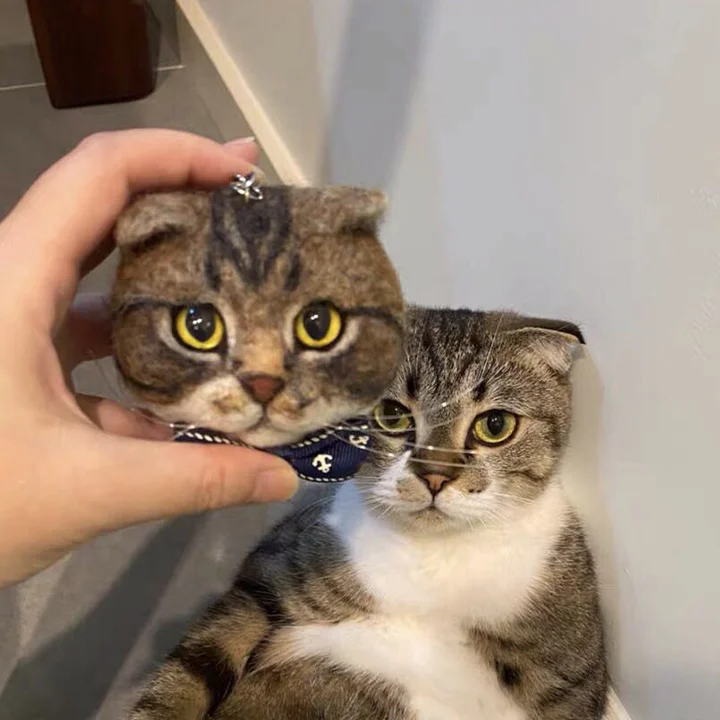 Pet Gifts - Cat Pendant丨Custom Pet Portrait.
Know Before You Shop:
We need

2-4 months

to finish your order, so we can make sure to provide good quality artwork for you

(Not including delivery time).

please make sure that you accept it before the purchase.
For all the cat owners out there who would love to have their furry friends always with them, I can make unique jewelry with their face, to have and forever cherish when their furry friends aren't around them.
This is a cat portrait pendant, made entirely out of fake fur and sheep wool.
It could be a one-of-a-kind gift for every pet owner, for a birthday, anniversary, or any other happy event from his life.
Made to order. Please note that this sale is made to order. If you want a similar cat pendant, please buy them now and I will make one for you.
100% repeat is not possible. Each pendant is unique because it is handmade.
Warning:
Not a toy for little children and pets.
These sculptures are not suitable for active playing, because they are very delicate, they are works of art made for the discerning collector.
Keep away from small pets, they can nibble because of the natural fur.
This piece is not intended for children under 3 years, the small pieces and the loose fibers may cause a choking hazard.
Please handle it carefully, do not pull its fibers!
Only dry clean!
APPROXIMATE DIMENSIONS
4.5*2,9 INCH (11,5*7,5 cm)
------------------------
ORDERING STEPSTo start the process, please help me with the following:
1. Purchase this listing.
2. Upload some clear pictures with your pet from the front, right, and left side, that show very clear his fur color (preferable photos made in natural light).
3. What are his name and breed? (is optional)
------------------------
PROCESSING TIMEThere is a waiting list for custom orders, please, contact me for more information. Processing time can take 2-4 months or some more.