Professional Pet Nail Clippers with Safety Guard and LED Light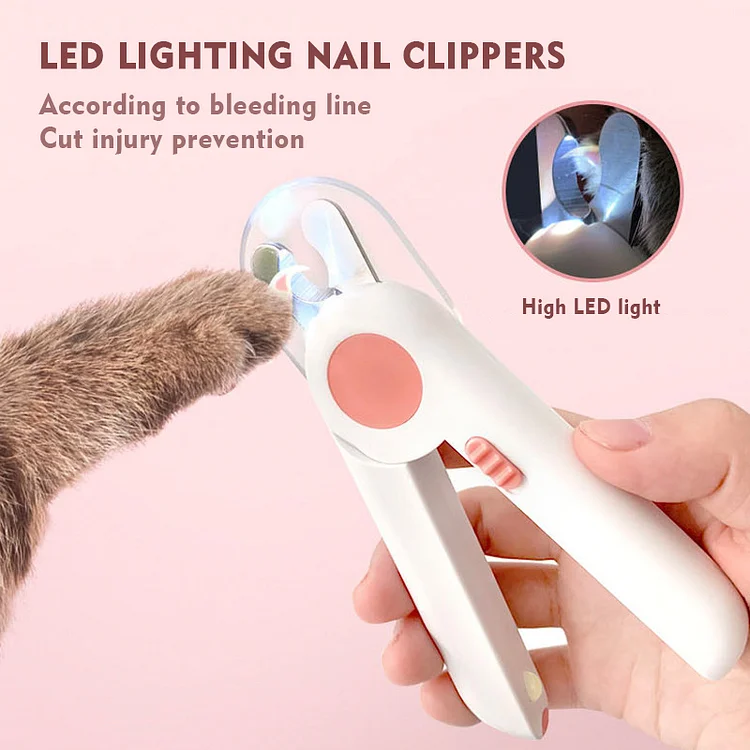 Professional Pet Nail Clippers with Safety Guard and LED Light
【Illuminate Pet Bloodlines】Pet nail clippers with a built-in bright LED light, clearly illuminate the pet's nail bleeding line, so it can greatly reduce the risk of over-cutting to avoid bleeding and bacterial infection. Makes you and your pets feel more relaxed and protect the health of pets and families.

【Effective cutting】Blade is made of high-quality sharp stainless steel material, very sharp and easy to use, cuts through pets' nails with ease, makes nail clipping effortless, without causing fear or resistance to your pet. A half-moon shape design, which is more appropriate to the shape of the nails, perfectly avoids nail-splitting.

【Nail File and Anti-splash Design】Designed with hidden nail file and transparent baffle. The nail file is easy to store, which helps to polish smooth nails and prevent scratching of pets and human skin. The baffle can prevent the splash of broken nails during the trimming process and keep the environment tidy. When not in use, close the nail clippers with a rubber band, keep them away from Children.

【Perfect for Pets】Pet nail clippers is small in size, easy to carry. It helps you clean your pet's dirty nails, cracked nails, and long nails, making your pet healthier and cleaner. It is ideal for small medium large dogs, cats, rabbits, birds, etc.

【Suitable For Beginner】Easy to use ABS ergonomic handle, lightweight and comfortable, great for a beginner. Ultra-long standby time batteries, with replaceable 3 LR44 batteries (included).