Multifunctional Outdoor Entertainment Dog Toys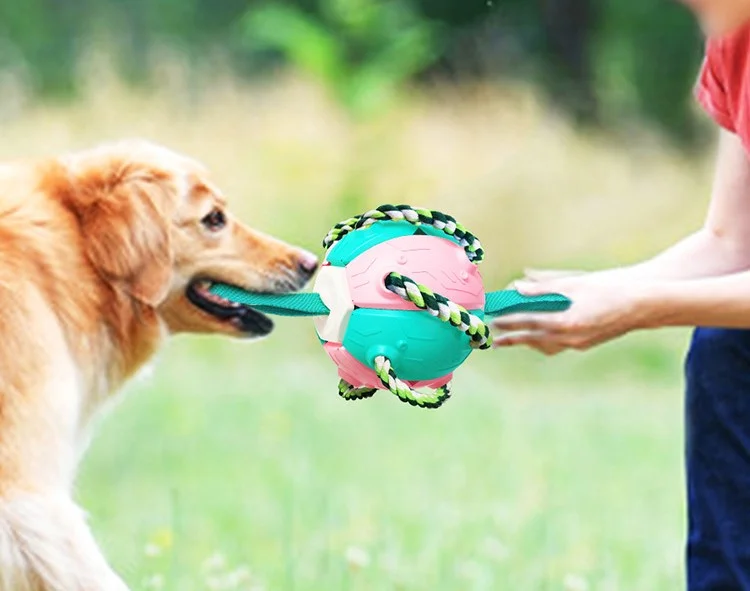 Multifunctional Outdoor Entertainment Dog Toys
This is a multifunctional outdoor entertainment toy for dogs, which can bring different play experiences to dogs and increase their interest in playing.

[Multifunctional outdoor dog toy]
This is a multifunctional interactive fun toy for owners and pets, which integrates rebound frisbee, interactive training balls, molar balls, tug-of-war toys, outdoor sports, and other functions, which can bring multiple entertainments to dogs Experience.
【Rebound Frisbee Ball】
The toy can be squashed from a ball to a frisbee. Throw the toy out, and the toy can transform back into a sphere by itself during the flight.
[Interactive Training Ball]
The owner can throw the ball with his hands or lift the ball with his feet, and let the dog retrieve it. When the dog is swimming outdoors, you can also play on the water to enhance the feelings between each other.
[Tug-of-war toy]
The owner and the dog each hold one end of the nylon rope for tug-of-war use.
【Teeth Ball】
The toy is surrounded by a number of cotton dog biting ropes, which can not only stimulate the dog's interest in biting the toy but also effectively clear the dirt on the dog's teeth and protect the dog's dental health.
[Easy to use and easy to carry]
It can directly bite the dog to enhance the dog's physical strength. After use, it can be directly squashed and placed in the bag, saving space and making it easier to carry.