Spring Series Automatic Ceramic Pet Water Dispenser-Healthy Hygienic Fresh Water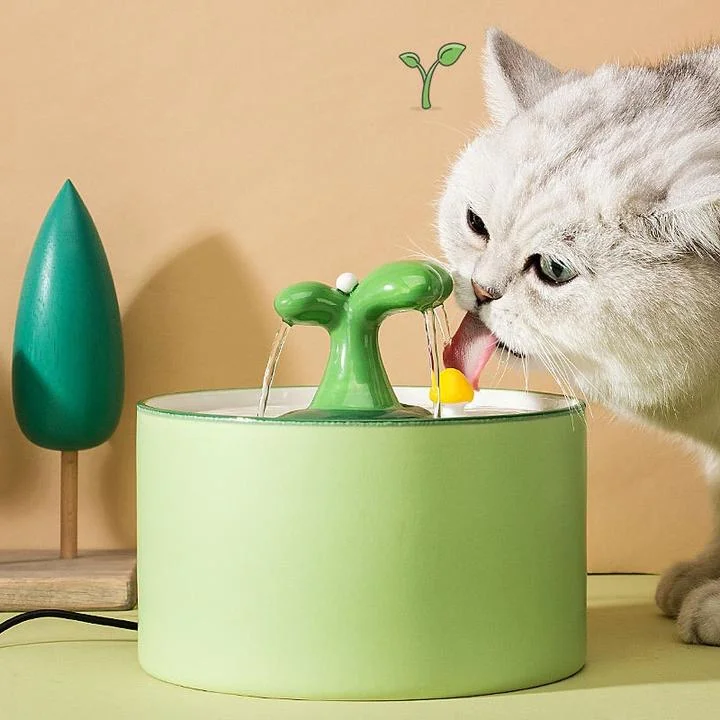 Spring Series Automatic Ceramic Pet Water Dispenser-Healthy Hygienic Fresh Water
Features:
Double filtration system:

Unlike still water in a bowl, fresh flowing water in a fountain is more appealing for picky cats. We use filter sponge layers to filter impurities, volcanic rocks to purify water, rid the water of unpleasant smells, medical stones to balance PH value, ceramic carbon balls to absorb impurities, and soften water quality, and catch any hair that falls in. You can expect a well-hydrated cat, healthy and free of kidney problems and urinary tract infections!
Environmentally friendly materials:

non-toxic and harmless, using high-quality natural ceramics. Compared to plastics, ceramic water dispensers are more resistant to dirt and are not prone to bacteria.
Super silent:

the sound of the water dispenser keeps below 40 decibels when running, and will not disturb you and your pet.
Large-capacity water storage:

Large-capacity water storage can be used for pets to drink for up to 1 week. When the water dispenser is working, the water slowly flows down from two directions to attract the attention of pets and allow pets to drink more water.
THIS Drinking Fountain is a cat water fountain with steady clean filtered water. The whole body is removable and washable, leaving no dirt, keeping the cat drinking fountain sporty and hygienic.
Smart power-off:

Will be automatically power-off when there's no water inside, prevent dry burning.
100% Satisfaction Service:

Any problems about the pet fountain, please contact us freely, we always work on the way to providing professional service for each of our clients.
Filter:

L comes with 4 pics S comes with 3 pics
Our Materials:
High-quality Ceramic Body & Fully Ceramic
Fixed outlet, not easy to be knocked over
Dust-proof top cover, clean water source>
Product Measurements:
| Style | Length | Width | Height |
| --- | --- | --- | --- |
| S | 5.5 | 5.5 | 6.3 |
| L | 7.1 | 7.1 | 6.3 |
*This data was obtained from manually measuring the product, it may be off by 1-2 INCH (2-3CM).
*Care Instruction:
Clean the Drinking Fountain Every 7 days.

When using for the first time

, please rinse the filter box for 2 minutes to flush out the filter element impurities caused by collision.