Non-Slip Double Cat Bowl With Stand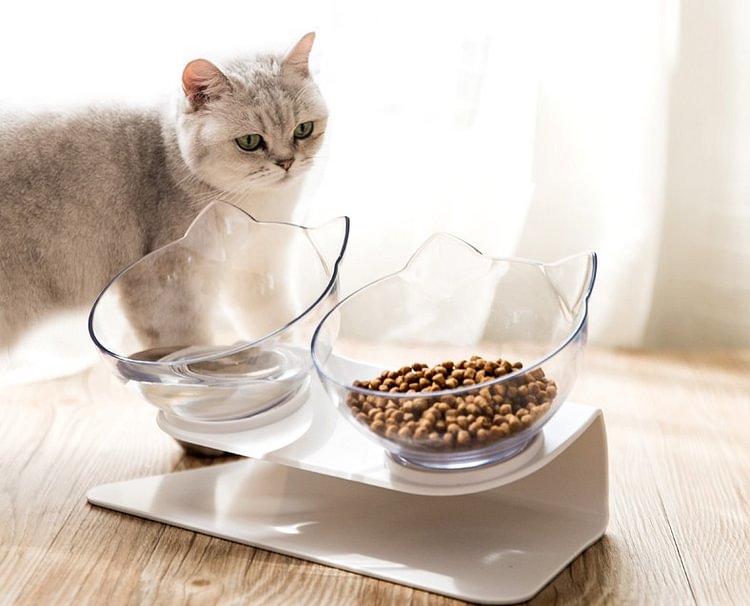 Non-Slip Double Cat Bowl With Stand
HELP YOUR CAT EAT SLOWLY AT THE PERFECT ANGLE TO AVOID VOMITING PROBLEMS
See your pets' overall health improve by just changing the way they eat! Whether it's old age or arthritis, regular bowls tend to be very uncomfortable for cats to eat out of.

Deep, hollow bowls not only add strain on their necks but also makes them want to eat too quickly, causing indigestion, vomiting, and a whole lot of pain. It puts your poor kitty under a lot of stress and may also make them disinterested in mealtime altogether. Oh no!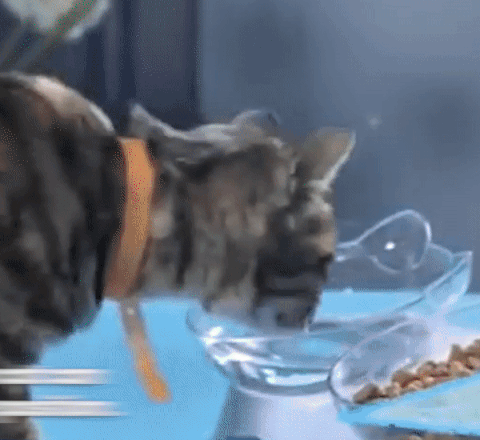 LUCKILY, THE ANTI-VOMIT BOWL EXISTS...
- This elevated, tilted, 15-degree incline bowl allows your cat to easily reach in and enjoy their food without ever facing any strain, pain, or discomfort. Just fill it up and watch your little furry friend gleam & purr with excitement.
- The safe base is anti-overturned, with a non-slip sticker at the bottom
- Large oblique rim reduces cat food dropping and is suitable for flat-faced cats
- Curved bottom makes it easy for cats to clear the bowl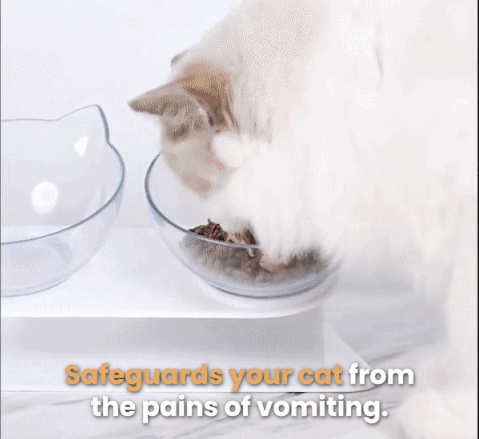 BENEFITS AND FEATURES
I
t's
BPA-free and Non-Toxic -
so don't worry if the kitty licks the bowl to the bottom!
Single or double -
Want one bowl or two? Better yet, what does kitty want? Whatever you two decide, we've got you covered.
Stand included -
You may not know it but your cat eating at an elevated position is something good for them. It helps with digestion as it opens up their airflow.
Tilted -
The bowls rest on a slope so that the kitty's food falls towards them. Their whiskers won't touch and they'll have easier access to their meals.
Non-slip -
Got a messy eater? You don't want the stand moving around on your hungry cat. This is non-slip and tip-proof, so everything stays just where it should.
Adorable -
Cats are cute all on their own, this just takes things to the next level. Get your camera ready and say "meow."

SPECIFICATIONS
Material: BPA & Toxic Free Plastic
Size:
Double: 26.5 x 13 x 8 cm

Single: 13 x 13 x 8 cm
YOUR PACKAGE INCLUDES
1 pc x Smart Orthopedic Cat Bowl
1 pc x Bowl stand
Just put your bowls in the stand, rotate it clockwise and your cats' new bowl is ready to use!
Show your cat a little love and get them something extra special. Just for them. Order yours today, and make your cats happy.
FAQs
RETURN POLICY (30 DAYS)
NO CANCELLATIONS OR MODIFICATIONS WILL BE ALLOWED AFTER 24 HOURS OF ORDER PLACEMENT.
All Walfainds products are sold as new and covered by our standard manufacturer warranty. Please consult a qualified professional to make sure the merchandise you are purchasing is what you want and it will fit your specific field conditions. If you have any questions regarding a product, please contact us via email for assistance before your placing order.
We recommend that you open and inspect your items upon receipt, should you find any discrepancy or defect with your item, or if at any time you encounter any problems such as missing or defective parts please contact us immediately. We will gladly send you the replacement parts.

BEFORE RETURNING AN ITEM
To return any merchandise, you must request an RMA – "Return Merchandise Authorization" [within 30 days from the date order is received], from our online support department with your order number, and provide the item(s) you wish to return.

GUIDELINES
1. Merchandise must not be installed and must in 100% resalable new condition.
2. You have to obtain an RMA number (Return Merchandise Authorization) from our online department before shipping back the merchandise.
3. Customer pays return shipping costs back to walfinds's Warehouse
4. All Returns are subject to a 25% restocking fee, based on the value of the returned merchandise.
5. Shipping is Non-Refundable.
6. Products purchased over 30 days are not returnable or exchangeable.
7. Refused shipments and unauthorized returns will be subject to a 25% restocking fee, plus return shipping and re-consignment fees.
8. Returns requested past 30 days of delivery will be denied.

EXCEPTIONS
You will not be charged for a restocking fee if:
1. We shipped the incorrect item(s) to you. The merchandise you received is not what you originally ordered.
2. Merchandise has a flaw (not caused by shipping) or defect (must claim within 30 days). If it is damaged through shipping, please have your order/tracking number ready and contact the online department ASAP for further assistance.
If your order is flawed or defective, please contact our customer service representatives to request an RMA and you will be instructed on how to proceed with the return. Usually, You will be asked to place another order as a replacement and we will reimburse the amount after the returned merchandise has been inspected by our RMA Department. If you made an invalid claim, no refunds will be given.

CANCELLATIONS
You may cancel your order, for any reason, and receive a full refund within 24 hours of your purchase. You will be responsible for contacting us for a cancellation request. Once an order is processed or shipped, the terms of our Returns Policy will apply.
Any cancellation requests made after 24 hours cannot guarantee your request will be granted due to our expedited processing.
Please Note: Our warehouse works fast and orders are often already packed up, shrink wrapped on pallets, and loaded on courier's trailers before a tracking number is uploaded to you. In many cases becomes impossible to locate your box and stop the shipment. Once the order is en route, it then becomes a general return under our easy 30-day return policy.
A Customer Service representative will assist you and confirm whether or not the order can be canceled for a full refund. Once an item is processed, the terms of our Returns Policy will apply.
Refused shipments and unauthorized returns will be subject to a 25% restocking fee, plus return shipping and re-consignment fees.

NON-RETURNABLE ITEMS
There are some products that are just too delicate or bulky for us to accept as a return. For this reason, they're sold as "All Sales Final", so please make sure they will work for your improvement project before purchasing. If you're not sure, we offer free technical support to help you make the best decision.

RETURN INSTRUCTIONS
1. Buyer must obtain RMA number, follow the return instruction and pay to ship the product back to our warehouse at your own cost. Return without RMA number will not be processed.
2. Buyer agrees to pay a 25% restocking fee per item in your order. This charge may be made in advance or deducted from your credit.
3. All returned items must be in original packaging, show no sign of physical damage or parts shortage; this may affect the amount credited on your return.
All refunds will be credited back to their original payment method; Refunds are generally issued within 5-7 business days after receipt of the returned products. No refunds or exchanges will be processed before receiving your returned products.

Return address: room 202, floor 4, F518 ChuangYiYuan, Xixiang street, Baoan District, Shenzhen, Guangdong Province, China, Post Code 518000
We are sorry we are unable to offer exchanges but will be happy to help you process a return and place a new order, and waive the shipping fee on your new order.

* We reserve the right to deny a refund for any returned item that is no longer in new condition, in its original packaging, or is damaged, missing any labels, instructions, or pieces. Returned items that have been opened or are no longer in intact packaging are eligible for store credit only if accepted for return. The item may be subject to a 25% restocking fee or will be returned to the customer at the customer's expense.
Order Processing
It typically takes 1-3 business days for orders to process and leave our warehouse. Processing times do not account for weekends or holidays. Orders are processed in the order in which they are received. We offer a number of shipping options that can be selected at checkout. Shipping costs may vary depending on weight, postal code, and shipping method. Remote locations may require additional time for delivery.
Shipping Method And Shipping Cost:

Products with a total purchase amount of less than US$100 will be charged a Standard Shipping fee of $6.99.

Free shipping is available to international customers, excluding oversized packages, on orders with a subtotal of $100 or more.

Expedited Shipping $9.99.
Shipping Method Costs Delivery Time
Standard Shipping(orders $100 and over)Free--15-20 Business Days
Standard Shipping(orders under $100)$6.99--15-20 Business Days
Express Shipping$9.99--7-12 Business Days
International Shipping
International Shipping rates vary based on package weight, shipping address and shipping method. Please allow 1 - 3 business days for order processing and 7-15 business days for delivery (depending on shipping method). Your international shipping options will appear on the Shipping Method page of checkout, based on your location. Customs & import fees may apply to some international orders. These fees fluctuate by country and order value, and we have no influence or control over these types of fees. The customer is responsible for all customs and/or import fees. By law, we cannot lower the invoice value or send the order as a gift.
Order Tracking
When your order is ready to be shipped, you will receive a shipment confirmation e-mail. The majority of our orders are shipped within 1-3 business days after the order has been placed. The e-mail will contain shipment details, your tracking number, and a link to the selected carrier site. To track the order, click on the tracking number located near the bottom of the e-mail.
To track an order on walfinds.com, please visit the My Account area. You will need to sign in to access your account information.
Delivery Times
All orders are shipped from our warehouse within 1-3 business days of the order being placed.
The shipment will arrive between 7-15 business days after the shipment date, depending on the availability of the carrier provider, and location.
Shipment delays may occur if the shipment requires Customs clearance or inspection in your country, or if there are transportation delays caused by the carrier service.
COVID-19: Delays may occur due to the current health emergency situation.
Customize your cat's exclusive commemorative silver coin