The Lookout Window Cat Hammock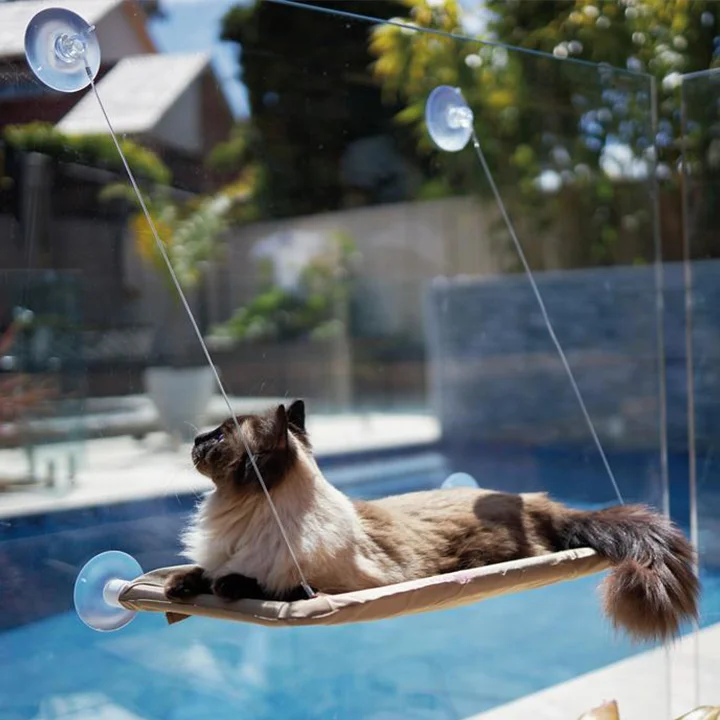 The Lookout Window Cat Hammock
What cat doesn't like finding a good spot in the sun where they can watch the world float by? It's actually a cat's natural instinct to find a high perching point so they can look out for predators or playtime opportunities...
This unique bed can be placed anywhere you like. It attaches directly to a window or smooth surface using suction caps and can hold up to 17.5kgs of kitty weight.
WHY THE Cat Hammock?
A natural lounging environment - Cats love to be elevated and observe their
surroundings from up above. This gives them a sense of security and can drastically reduce
pet anxiety and increase pet confidence.
Passively stimulate your pet - Other than sleep, cats require a sufficient amount of
visual stimulation. With the Hammock, your cat will have a front-row view of nature, which
will passively engage their hunter ways and keep them occupied while you're busy!
Save space - Thanks to our sleek and minimalist design, the Hammock can help you save
space and eliminate clutter by removing large cat furniture. This product is perfect for cat
owners in condos or apartments or for homes that just need a bit more space.
Protect your walls - Unlike most DIY (do-it-yourself) cat shelves, the Hammock does not
damage your walls and is easy to set up thanks to our industrial strength suction cups!
Easy to Clean - Compared to other cat hammocks on the market, if your cat happens to
have an accident on the Hammock, our removable nylon-based material is water-resistant
and machine washable, so you and your cat will be back in action in no time!
BEST BITS:
Holds up to 17.5kg

Great for small living spaces

Adaptable to move onto any smooth surface

Removable & washable cover